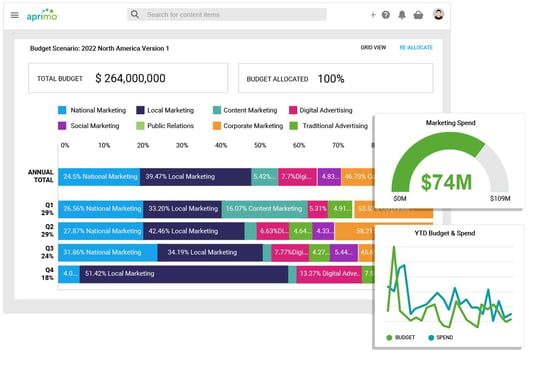 Solutions for Aprimo
Selectable Metadata Viewer & Extract for Aprimo DAM: Do you have asset metadata that's required to be pulled from Aprimo DAM for select fields? Are you having to pull all metadata into a spreadsheet and then sort through it manually to get to a data set you really need? Would you like to receive only the selected metadata fields you really need returned to you quickly in an easy-to-use format? Now you can with the Selectable Metadata Viewer and Extract from Solutions Plus.
Selectable Metadata Viewer and Extract is available via annual subscription with Solutions Plus provided service that includes managing and maintaining the cloud environment and maintaining the Selectable Metadata Viewer and Export feature.
Forecast Reallocation: An extension to Aprimo Plan & Spend, the Forecast Reallocation solution enables the ability to sync prior month forecast with actuals while maintaining the original annual forecast by reallocating the difference into the next month. The solution can be tailored to your specific approach for forecast reallocation. This is a highly valuable addition to the Aprimo base product forecasting capabilities given the inefficiency and lack of accuracy that comes with a manually updated process.
Utility Dashboards: Solutions Plus offers numerous pre-built reports and dashboards that provide valuable insights into your Aprimo data, user adoption and aids in the administration of Aprimo.
Some examples include:
Workflow Metrics Dashboard

Financials Dashboard

DAM Dashboard

Workflow Configuration Reference Map

Extended Attributes Reference Map

Business Rules Configuration Details

Admin Reports Package

Report Usage and Configuration Details

Extended Attribute Configuration Details